Production
Thanks to modernized production plants and automation of all departments, the company assures quality and consistency of Starlight® products.
Noyfil SA employs in its modern production chain the latest technologies. Many and diversified spinning lines allow a very high flexibility. Noyfil SA is able to meet all market requirements.
The production process is integrated with color master-batches. This allows complete control of the entire process, from Research&Development to production order.
SOLUTION DYEING TECHNOLOGIES
Thanks to Noyfil's solution dyeing technology during the spinning process, the production of INGEO™ continuous yarn requires lower water and energy consumption compared to traditional dyeing and finishing treatments. 
The company specializes in the production of poliestere POY (partially oriented yarn), drawn yarn, and solution-dyed and additioned FDY (fully drawn yarn) in customized micro lots starting from 200 kg. The plant produces about 30,000 tons per year of standard, recycled and modified polyester yarn. Solution-dyed yarn makes up 80% of total production, and part of the yarn is functionalized by the addition of additives (anti-UV, anti-bacterial, etc).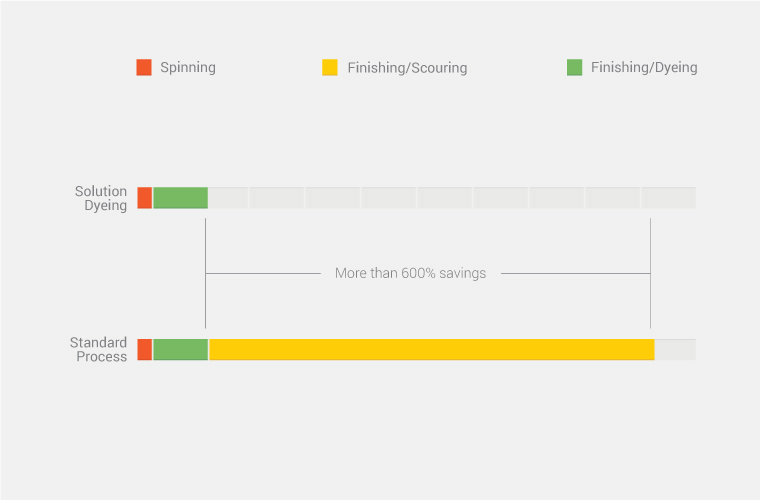 RadiciGroup for Sustainability
Noyfil SA
is an integral part of RadiciGroup, one of Italy's leading chemical multinationals.
RadiciGroup's worldwide business activities focus on chemicals, plastics, synthetic fibres and textiles. One of the Group's strong points is its synergistic vertical integration, particularly of its polyamide production chain.
Through participation in the Responsible Care programme, observance of REACH regulations and definition of shared ethical guidelines, RadiciGroup strives to optimize its sustainability performance.
Every year – since 2004 - RadiciGroup has renewed its commitment to communicating all Responsible Care programme results transparently and clearly, in the Group's Social Report.
All RadiciGroup's Social and Sustainability Reports are in the REPORT section of this web site.