High Performance Polymers
RadiciGroup engineering plastics and thermoplastic elastomers have applications ranging from furnishings to automotive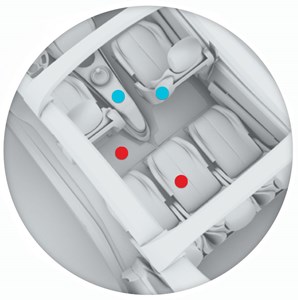 RadiciGroup Plastics manufactures
polyamides, polyesters, polyacetals and thermoplastic elastomers
that have been developed and enhanced over the years to meet the specifications of diverse industrial applications, all of which have a common need for high-resistance, high-quality and high-performance plastics.
Engineering plastics and thermoplastics for home furnishings
RadiciGroup Plastics can supply
thermoplastic compounds
for the manufacture of yarn for curtains, fitted carpet, rugs and coverings. Moreover, the Group's products include
engineering plastics
designed for the manufacture of chair components, designer furniture and household appliance parts.  
RadiciGroup products for furnishing applications are:
Plastic compounds for automotive applications
RadiciGroup also produces polyamide and polyester engineering plastics that have been specifically designed for automotive industry applications, for instance, the manufacture of under-the-bonnet, fuel system and transmission parts, as well as other interior and exterior auto components. 
Additionally, plastics developed for furnishings applications are often used in the automotive sector for the manufacture of fabric for seats, interiors and airbags. 
 
RadiciGroup products used in automotive applications are: 
Radilene® polyethylene compounds
Plastic nonwovens and yarns for apparel
For the apparel market segment, RadiciGroup supplies a range of plastic yarns and nonwovens specifically created for the manufacture of fashionwear, intimatewear, hosiery, swimwear, technical sportswear and disposable protective clothing.
Products for electrical/electronics applications
The manufacture of plastic compounds with excellent heat/flame and mechanical resistance properties is one of the cornerstones of RadiciGroup's production strategy. RadiciGroup Plastics produces and supplies engineering plastic compounds with characteristics that are ideal for the manufacture of electrical/electronics materials – first and foremost, excellent flame resistance.
 
RadiciGroup products used for electrical/electronics applications are:
Engineering plastics and thermoplastics for construction and railway applications
RadiciGroup manufactures plastics suitable for use in the construction and railway industries. These engineering plastics and thermoplastic elastomers can be used for the manufacture of components for doors and windows, building yard equipment, rail insulation, and public transport vehicle seats and interiors. RadiciGroup plastics ensure excellent performance in safety, aesthetics, and mechanical and chemical resistance. 
 
RadiciGroup products used in construction and railway applications are:
Engineering plastics used for the manufacture of packaging materials
RadiciGroup engineering plastics are used in the packaging sector – food-packaging materials, in particular. The Group's polyamide engineering plastics can also be obtained from recycled waste or rejects, thus reducing the environmental impact due to the use of plastic.   
 
The most suitable RadiciGroup products for packaging applications are: