High Performance Polymers
RadiciGroup engineering polymer applications include numerous solutions, often involving specialty polymers tailored to the needs of final customers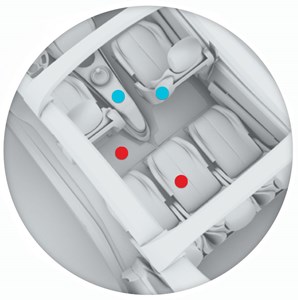 The RadiciGroup High Performance Polymers Business Area manufactures products based on polyamides, polyesters and other polymers that have been developed and enhanced over the years to meet the specifications of diverse industrial applications – all having in common the need for high-resistance, high-quality and high-performance materials.
Polymers for automotive components
RadiciGroup produces polyamide, polyester and other engineering polymers specifically targeted at the automotive industry, where they are used to manufacture components for under-bonnet systems, fuel and transmission systems and automotive interiors.
Furthermore, in automotive manufacturing, high performance polymers are often used in the manufacture of fabrics for seats, interiors and airbags.

RadiciGroup products for automotive uses are:

Nonwovens and synthetic fibres for apparel
For the apparel industry, RadiciGroup supplies a range of synthetic yarns and nonwovens specifically created for the manufacture of fashionwear, intimatewear, hosiery, swimwear, technical sportswear and disposable protective clothing.
Compounds for electrical/electronics components
The care used in the manufacture of compounds with excellent flame and mechanical resistance properties is one of RadiciGroup's strengths. The products designed for electrical/electronics applications are compliant with the relevant industry norms requiring products that ensure greater user safety and health protection for both household and industrial applications.
RadiciGroup product applications in the electrical/electronics sector include: switches for domestic and industrial use, connectors, cable ties and insulating components for electric motors.
RadiciGroup products used for electrical/electronics applications are:
Engineering polymers and thermoplastic elastomers for consumer goods
Below is some information on products developed for various market segments.
Water and sanitary systems. RadiciGroup has developed a number of PA6.6, PA6.12 and PPA compounds suitable for water contact at 23, 60 and 85°C, certified by ACS, KTW and other certification bodies. These materials feature excellent mechanical properties and can be used for metal replacement. They also have a number of significant advantages: greater safety for users as they are lead-free, no scale build-up, ease of design and competitive costs.
Extrusion. A number of products are available for numerous solutions for pneumatic applications, monofilaments, etc.
Utensils, gardening and leisure. Various products have been developed for plastic utensil bodies (power drills and power saws) and for the gardening segment. The key characteristics are impact resistance and property retention, including colour after weather exposure, as well as excellent surface appearance, even with special colouring.
Home appliances. RadiciGroup boasts a range of polymers resistant to the action of fluids and substances present in washing machines, dishwashers, coffee machines, etc. For electrical parts, RadiciGroup supplies flame-resistant materials with formulations designed to pass the most severe tests and ensure greater user safety.
Furnishings. The RadiciGroup product range includes thermoplastic compounds for the production of yarn used to manufacture curtains, carpets, upholstery and rugs, and engineering polymers designed for the manufacture of bodies and parts for chairs and designer furniture.
Construction and railways. RadiciGroup manufactures materials suitable for use in the construction and railway industries. These engineering polymers are used for the manufacture of components for doors and windows, building yard equipment, rail insulation and public transport vehicle seats and interiors. RadiciGroup materials ensure excellent performance in terms of safety, aesthetics, and mechanical and chemical resistance.
Packaging: RadiciGroup has developed specific PA6 and PA6 copolymer products for the manufacture of multilayer film.
Below is a list of RadiciGroup products used for consumer goods applications: