Sustainability Report
2011 Sustainability Report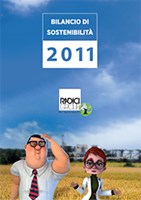 For the second year in a row Lisa and Ettore will be our guides to discovering the RadiciGroup Sustainability Report.
They were the leading characters not only of the previous edition of the Report but also of the cartoon "RadiciGroup for Sustainability". Here they will help us achieve a deeper understanding of the RadiciGroup world. In this Sustainability Report, as in all previous ones, RadiciGroup demonstrates its commitment to transparent and complete reporting on corporate social responsibility. This year, for the first time, the Sustainability Report has obtained external assurance that the Global Reporting Initiative (GRI) requirements for Application Level B+ have been met. RadiciGroup is included in the Global Reporting Initiative database of GRI-based Sustainability Reports.
Today GRI is the most accredited framework for reporting on economic, environmental and corporate social responsibility, and it has been adopted by companies worldwide. For RadiciGroup, it is another important step forward in the direction of making sustainability a key objective of its corporate policy.
---