Pro Socks
Chemical protective clothing. Category III, Types 4-B, 5-B and 6-B.
Performance with comfort and ergonomics.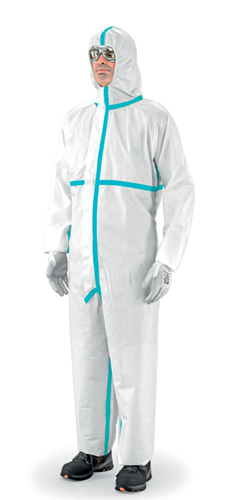 Key features
Coveralls with integrated socks and boot flaps.
Excellent barrier against dust and splashes.
Protection against penetration of chemical sprays.
Taped seams offering a protection barrier equivalent to the fabric itself.
Antistatic treatment (in conformity with EN 1149-5:2008).
Extremely heavy-duty yet lightweight coveralls, featuring an optimal compromise between protection and comfort.
Self-adhesive chin flap for a tighter fit around a respirator, if needed.
Elastic around face opening and at wrists and ankles.
Glued-in elastic waist. Thumb loops to prevent the sleeves from riding up.
Sizes: S to XXL.
The main applications include: maintenance, pharmaceutical manufacturing plants, research & development laboratories and medical facilities.
Download