RadiciGroup at the 3rd Global Sustainable Fashion Week
Measuring stainability: a luxury or a necessity?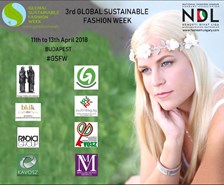 The 3rd Global Sustainable Fashion Week has just opened its doors in Budapest (11-13 April). It is a unique three-day event combining international conference, workshops, displays, fashion shows in the field of sustainable and ethical fashion, the range of the different eco-friendly fibres, materials included.
RadiciGroup supports also this edition of the event to promote efforts and investments devoted to measuring sustainability in fashion. This with the aim of raising awareness among designers and fashion operators on the importance of backing sustainability strategies with sound, impartial data.
 
Universally recognised measurement instruments such as LCA can offer any kind of organization a valuable tool to assess environmental impacts. Various degrees of deepening are possible, suitable to small, medium and big-sized companies, along with the possibility, which is not an obligation, of third party certification. Data are fundamental to get an overview of impacts, to spot high-impact processes on which to invest, to compare various types of fibres, to back sustainable claims with data, not with impressions or beliefs. 
In the end, RadiciGroup is convinced that measuring sustainability is a profitable investment in the medium and long term and the key precondition for creating a truly sustainable production chain in the light of circular economy and eco-design.