World Water Day: concrete action by RadiciGroup and Geogreen to safeguard "blue gold"
Operative words: for RadiciGroup, consumption rationalization and recycling; for Geogreen, renewable energy and biodiversity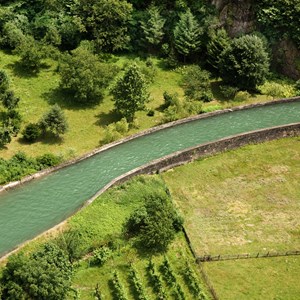 On the occasion of World Water Day, an annual event celebrated on 22 March, RadiciGroup and Geogreen want to draw special attention to some of the good practices that have become part of their everyday corporate life. Conserving water is one of the cornerstones of how their production and power plants operate. With every passing day, the two enterprises are setting increasingly more ambitious goals for consumption reduction, recycling and protecting biodiversity.
Firstly, concerning the need for "blue gold" at RadiciGroup, water is used mostly for plant cooling, not in the production processes themselves. Therefore, consumption is fixed and does not depend on production capacity utilization. In any case, water is treated according to the applicable laws and regulations in each country where Group plants are located and is monitored and discharged in full compliance with the parameters set by the law.
"Consumption rationalization and recycling are the operative words that govern the way our Group operates in managing water, as well as other resources," said Angelo Radici, president of  RadiciGroup. "As one can see in greater detail in our Sustainability Report, during recent years we have achieved ambitious results and intend to continue on the same path: in the three-year period from 2014 to 2016, we managed to further reduce the consumption of water resources per ton of production by 4.2%, quite an achievement if one considers that the margin for improvement is naturally diminishing on account of the great amount of work we've done in prior years."
Geogreen is a Radici family company that supplies electricity to RadiciGroup. Among its activities, the energy provider owns 5 hydroelectric power stations, distributed throughout the regions of Piedmont and Lombardy, with total installed power generation capacity of 10 MW and annual power generation of about 60 GWh. The total renewable energy production of these power plants – which fall under the small hydro category with reduced environmental impact – corresponds to the annual electricity consumption of a 70,000-resident city, thus preventing the emission to air of 30,000 tons of CO2. Geogreen contributes significantly to ensuring RadiciGroup has an optimal production mix from the point of view of environmental sustainability. In fact, Geogreen's electricity production completely covers the power needs of the two Radici Novacips engineering plastics production plants in Italy, in addition to the needs of the polymerization plants at the Group's other Italian sites.