The sustainability our mountains deserve
RadiciGroup and DKB introduce the first "circular" ski suit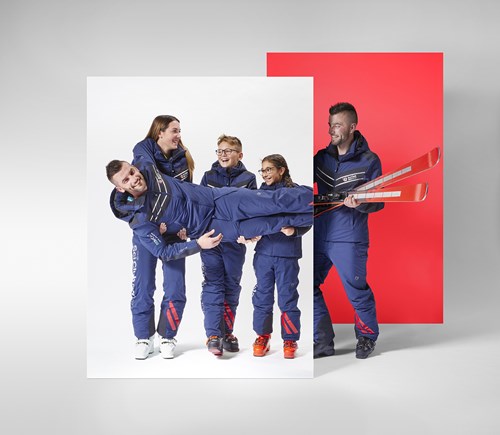 The first truly sustainable ski suit, featuring Italian style and design and a zero-kilometre supply chain, is finally here. Two Bergamo companies of excellence played the leading roles in the conception and realization of this highly innovative fashion-sport garment: RadiciGroup, a world leading producer of chemical intermediates, polyamide polymers, high-performance engineering polymers and advanced textile solutions, and DKB, a company specializing in technical sportswear with the same brand name.
The ski suit, consisting of jacket and trousers, is fashioned with a fabric made of RENYCLE, a RadiciGroup yarn obtained from mechanically recycled polyamide (nylon), which affords notable savings in energy and water consumption, as well as lower CO2 emissions.
In addition, the suit's padding and numerous accessories, such as zippers, Velcro, buttons and thread, are also made of polyamide. This achievement was made possible by the great teamwork of RadiciGroup and DKB on the research and development of chemically compatible materials that can be used in special applications requiring high technical performance.
The end result is an almost mono-material garment that significantly facilitates end-of-life recycling. It can be more easily converted into polymers for use in the manufacture of ski boot components and bindings, in addition to applications in the automotive and furnishing industries, or in any other sector requiring the characteristics of high performance polyamides.
The ski suit by RadiciGroup is thus an all-round application of ecodesign and circular economy principles to fashion and garment making, which justifies the claim "Una sostenibilità all'altezza delle nostre montagne" [Sustainability worthy of our mountains] written in a logo patch on the inside of the jacket.
"I am particularly proud of this achievement, a synthesis of my passion and effort," said Angelo Radici, president of RadiciGroup. "I've always loved mountaineering and skiing, and, together with my collaborators, I work hard at our company day in and day out to find innovative solutions that improve the sustainability of our industry. This ski suit is concrete proof of the fact that textiles and apparel can be made sustainable without compromising on comfort, design, looks or performance. I will never get tired of repeating that collaboration among the firms along the production chain is crucial to manufacturing goods with an ecodesign approach, considering their end-of-life recyclability and, thus, potentially giving them unlimited durability. Upstream producers, like us, gladly share our know-how in materials chemistry and experience in recycling with our downstream partners, so that, together, we can find sustainable and viable solutions in the various sectors where we operate."