STIHL Award, RadiciGroup best "Supplier of the Year 2016" in Plastic Resin
The RadiciGroup Perfomance Plastics Business Area recognised as technical plastic solution supplier by the world's leading manufacturer of chain saws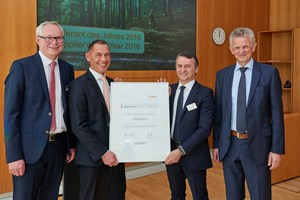 Radici Novacips Spa, a Italy based company member of the RadiciGroup Performance Plastics Business Area, received the prestigious award "
Supplier of the Year 2016
" sponsored by
STIHL
, a remarkable customer, world's leading manufacturer of chain saws and producer of outdoor power tools, including trimmers, brushcutters, cut-off machines, blowers and sprayers.

Stihl underlined that the award stands for appreciation for RadiciGroup big enthusiasm, patience and high motivation by providing quality and excellence in the innovative engineering plastics industry.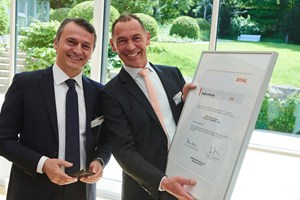 Mr. Klaus Baumbach, Purchasing Director of STIHL, remarked: «
Today Radici has an important role in developing new plastic solutions. Because of its success in working together with our R&D department, now the decision is to choose Radici as a strategic development supplier for plastic resin in different production sites inside the STIHL Group
».

A big advantage is surely the strategic orientation of Radici having production sites in different regions worldwide. According to this coordination and competitiveness, Radici is able to supply STIHL Production sites locally and to play a fundamental and trustful partnership role.