Roadmap to climate action: in the past decade, RadiciGroup slashed greenhouse gas emissions by 70%. Target: - 80% by 2030.
Radici Chimica Novara plays a key role in reducing Group environmental impact.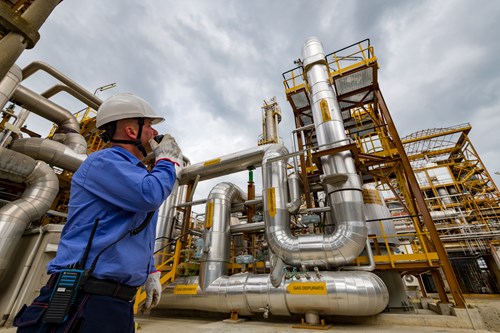 Setting concrete environmental sustainability objectives for abating direct greenhouse gas emissions and leveraging investments and state-of-the-art technology. This is the approach that has always guided world leading manufacturer RadiciGroup in operating its businesses with a wide range of products: chemical intermediates, polyamide polymers, high performance engineering polymers and advanced textile solutions.

RadiciGroup's strategy has paid off, allowing the Group to reach ambitious goals: between 2011 and 2020, overall Group greenhouse gas emissions were cut by 70%, falling from about 700,000 metric tons per year of CO2 equivalent to 200,000 metric tons.

These results were largely achieved through the action implemented by the Group's Specialty Chemicals Business Area at its plants in Novara, Italy, and in Germany, which are the heart of RadiciGroup's chemicals business. Here the Group produces an essential intermediate for synthesizing polyamide 66, adipic acid, whose production process releases nitrous oxide as a by-product. Nitrous oxide in itself is not particularly problematic (in fact, it is used in the medical sector as an anaesthetic and in the food industry as a spray propellant, in cans of whipped cream, for instance), but, if it is released into the atmosphere, it has a much higher greenhouse gas effect than carbon dioxide.

At the Radici Chimica site in Novara, a multiyear investment budget of over EUR 10 million was dedicated to lowering these emissions through three important undertakings: in 2004, putting into operation a three catalyst bed reactor, designed and patented by the company, to decompose nitrous oxide into nitrogen and oxygen, the two elements it is composed of, thus making it innocuous for the atmosphere; in 2013, installing an EnviNOx plant to decrease the release of nitrous oxide formed in the production of nitric acid, and, in 2021, a further improvement in the emissions abatement system associated with nitric acid production.

Since activating the last plant just 9 months ago, more than 35,000 metric tons of CO2 equivalent have been cut. All the above-mentioned actions have enabled Radici Chimica Novara to record a nitrous oxide emissions level less than 10 ppm, a value close to zero.