Radifloor® BCF Yarn: measurable sustainability.
An Environmental Product Declaration (EPD) developed by Radici Fil SpA – an ancestral RadiciGroup company with over fifty years' experience in the synthetic fibres industry – was recently registered and published. The EPD covers Radici Fil's entire range of PA6.6 and PA6 BCF yarns: raw white and solution-dyed BCF yarn, and refined BCF yarn (air-entangled, twisted and heat-set). The Radifloor® EDP is available on the

Environdec website

.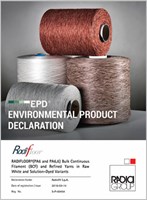 Radici Fil SpA has analysed all the stages of Radifloor® yarn production and measured the related environmental impact, taking as a starting point the extraction of the raw materials used to produce the polyamide polymers, not just the production process immediately upstream, i.e., the production of the polymer 6 and 6.6 used to spin the yarn. Thus all downstream yarn processing and manufacturing stages were considered – up to the exit of the yarn through the factory gate (a cradle-to-gate Life Cycle Assessment). To be able to communicate the real environmental impact of its products, based on verifiable and comparable scientific data, remains one of the primary objectives of RadiciGroup's sustainability commitment.