RadiciGroup's synthetic fibres at the 17th ITMA.
From tomorrow, 12 November, through 19 November, RadiciGroup is showcasing its synthetic fibres at ITMA, world exhibition of textile and garment machinery, this year returning to Milan, twenty years after the last edition held in Italy.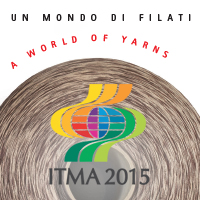 ITMA is a key trade show for the textile machinery industry, whose total 2015 revenues in Italy is estimated to be EUR 2.5 billion, according to
ACIMIT
,
Association of Italian Textile Machinery Manufacturers
.
Textile machinery is a "sector of excellence" in the Italian economy. Together with the German, Japanese, and Swiss textile manufacturers, the 300 Italian companies, with their 12,000 employees, are the leaders of the textile machinery industry.
At the 2015 ITMA there are about 1,700 exhibitors, coming from about 50 countries. The number of Italian exhibitors has increased by 41% compared to the previous ITMA held four years ago in Barcelona: the stands of the 454 Italian manufacturers occupy 30% of the total floor space.
Discover the
SYNTHETIC FIBRE RANGE
of RadiciGroup, a leading manufacturer of a vast assortment of products. From the broad portfolio of PA6, PA6.6 and PA6.10 fibres (
Radilon® - Radilon® 6.10
) to PA6 and PA6.10 staple fibre (
dorix® - dorix® 6.10
). From conventional polyester yarn (
Radyarn® - Starlight®
) to low environmental impact yarn (
r-Radyarn® - r-Starlight®
) and yarn obtained from Ingeo™ polylactic acid (PLA) biopolymer (
CornLeaf
). Rounding out the range: BCF PA yarn (
Radifloor®
), high-tenacity PA yarn (
Raditeck®
), polyamide and polyolefin artificial grass yarn (
RADIGREEN®
), and acrylic fibre and top (
Crylor®
).
Come and see us at our stand:  HALL 8 – STAND C122