RadiciGroup supports the Politecnico di Milano Dynamis PRC team and their new racing car, DP13 Autonoma
The new vehicle prototype uses 3D printing material formulated by the Group to maximize mechanical and aesthetic performance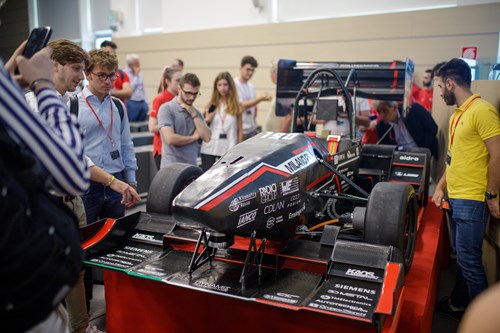 The RadiciGroup Radilon® Adline brand of 3D printing filaments is now also part of the new single-seat racing car designed by the Politecnico di Milano (PoliMi) Dynamis PRC team. Over one hundred engineering and design students worked on fine-tuning the new 2022 electric model, which, for the first time, is also designed to work in self-driving mode.
Every year, the PoliMi Dynamis PRC racing team designs a new prototype Formula SAE car that competes in the international university engineering design championship. In the last two racing seasons, the Dynamis PRC team was ranked as the best Italian team and achieved excellent results at the international level.
Angelo Radici, president di RadiciGroup, commented: "This year the Group decided to support the PoliMi university project, in keeping with the Group's care for supporting young students (aged 19 to 25) who are committed to combine both their studies and extracurricular activities in the automotive sector, where RadiciGroup has great competence in materials and applications."

"We were contacted by the PoliMi team to see if we could support them with our innovative materials," said Chiara Devasini, marketing & development project leader of RadiciGroup High Performance Polymers. "For over 40 years, we have been part of the automotive supply chain. We provide innumerable solutions that have been developed to meet demanding technical requirements and, in recent years, we have been particularly focusing on e-mobility. After a series of meetings concerning the young students' needs for their new project, we thought of using one of the products in our Radilon® Adline range specifically developed for additive manufacturing. These filaments are based on special polymer grades that have advanced technical characteristics, such as mechanical, chemical and thermal resistance, and are suitable not only for prototyping but also for manufacturing functional and structural components, as needed in this project."
Indeed, using the RadiciGroup material, an engine cable support and flap ribs were printed for the race car. The support is needed to keep the engine cable in the correct position and becomes very fragile during sharp turns. The internal ribs are essential components for the structure and behaviour of the carbon wing profile.