RadiciGroup participating in Milano Unica
Product sustainability: the key word for the relaunch of the fashion textiles sector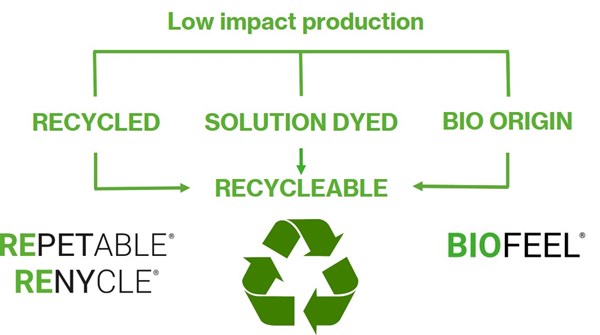 The return of RadiciGroup Advanced Textile Solutions to the trade fair circuit after months of lockdown starts with Milano Unica taking place on 6 and 7 July at the Fiera Milano Rho exhibitions district.

The Group has decided to focus on fashion textiles – one of the sectors hit the hardest by the pandemic – and to exhibit its portfolio of low environmental impact yarn. Without a doubt, the fashion textiles market has to place its stakes on sustainability to become a leading player in the revival and change under the banner of the circular economy.

The RadiciGroup stand is located in the Innovation Area of TexClubTec, the technical and performance textiles section of Sistema Moda Italia, and is showcasing all the Group's most innovative and sustainable yarn solutions for the textiles world: from Renycle®, yarn made from recycled nylon 6, to Repetable®, polyester yarn originating from the recovery of PET bottles, and the Biofeel® range, including all the products from renewable sources (PET, PA and PLA).

"We are participating in Milano Unica," stressed Marco De Silvestri, sales and marketing director of RadiciGroup Advanced Textile Solutions – Apparel & Technical, "because we want to show visitors and allow them to touch and feel that product sustainability, aesthetics, creativity and performance are characteristics that can coexist in fashion or sport garments. We are upstream players in the supply chain with thorough knowledge of materials and we are ready to work together with fashion brands to research solutions for the future: beautiful, innovative and environmentally friendly".

In the Innovation Area, a Bio-Materials Forum has been set up, where RadiciGroup will dress a female manikin in garments made using yarn from the Biofeel PET range.
Additionally, RadiciGroup is taking part in Milano Unica's Tendenze and Sustainability Forum in the Sustainable Creative Samples section, where it is presenting 7 fabrics created with its innovative green yarn.