RadiciGroup establishes a network of Italian textile excellence to create a spacesuit for analogue Mars missions
The Space Economy is launched in Bergamo.
Mars Planet analogue astronauts to take part in the SMOPS Mars mission simulation wearing suits made of RadiciGroup yarn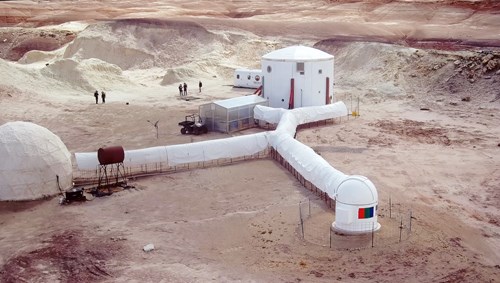 A group of companies in the Italian textile industry, headed by RadiciGroup, has created the first spacesuit for analogue simulation fully designed and engineered in Italy for the Space Medicine Operations (SMOPS) Mars mission. This endeavour was promoted and organized by Mars Planet – the Italian chapter of the Mars Society headquartered in the province of Bergamo – under the patronage of the Italian Space Agency.
The SMOPS analogue mission is mainly focused on space medicine: health monitoring of future astronauts and development of support technologies for the simulation of life in space and planet environments.

RadiciGroup teamed up with major Italian textile companies, such as Eurojersey, Vagotex and DEFRA, to realize the spacesuit project. The Group supplied the materials to make the suits for the six analogue astronauts participating in the mission and coordinated the development of the technologies needed to realize technicalwear for extreme environmental conditions. From 10 to 23 April, the spacesuits will be used in a series of experiments carried out at the Mars Desert Research Station in the state of Utah, USA, that will simulate the life and work conditions mission crews will face on the Martian surface.

"By participating in the SMOPS mission, RadiciGroup and the other textile companies involved in the project have had the opportunity to approach the frontier sector of aerospace, thus expanding and strengthening their know-how by experimenting with innovative solutions that may, in the future, be applied in business sectors, such as biomedical or others that require high safety standards," commented Filippo Servalli of Radici InNova, the RadiciGroup Research & Innovation company. "Working on this mission, we were able to capitalize on the skills related to the development of personal protective equipment (PPE) acquired during the pandemic and then applied to the industrial sector, taking them to a higher level."

The team headed by RadiciGroup contributed to the SMOPS mission project by developing and producing three items of technicalwear, featuring high health, comfort and performance standards, to allow the analogue astronauts to move easily and safely outside the base station, with the support of advanced control, monitoring and communication systems.