RadiciGroup, Atalanta sleeve sponsor for Champions League
The Group's name is also on the team jersey for the Italian Cup 2021-22 season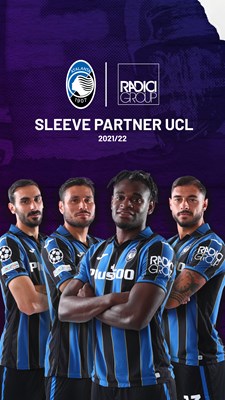 Important news about the jersey Atalanta is wearing for the 2021-2022 Champions League: RadiciGroup is the Sleeve Sponsor, thus strengthening its tight bond with the Nerazzurri Club on the international level.
What is more, RadiciGroup will be the Sleeve Sponsor for the Italian Cup matches this season.
As a result, the Radici Group-Atalanta collaboration, which began in the 2017-2018 season, continues to move forward with an ever more global connotation.
"Together with Atalanta, we are going to confront this important international competition with great pride and passion. We have the opportunity to put Italian excellence on the field," Maurizio Radici, vice president of RadiciGroup, commented. "These years of collaboration have given us both great satisfaction, and sometimes we have even achieved unexpected goals. As in the case of the Serie A Championship, our continued partnership is based on closely shared values that always drive us to perform better and achieve greater recognition abroad."
Villarreal, Manchester United and Young Boys are the teams that Atalanta will face off against in Group Stage F. Spain, the UK and Switzerland – the home bases of the opponents – are some of the countries in the world where RadiciGroup has manufacturing plants in the chemicals, polymers and textile solutions industries.
"The Champions League metaphorically expresses the RadiciGroup-Atalanta alliance," Maurizio Radici summed up. "Both our enterprises were born in Bergamo and have deep roots in our territory, yet at the same time know how to compete in a global context, thanks to our determination and teamwork."
Luca Percassi, managing director of Atalanta BC, stated: "It is with great satisfaction that we are announcing this new partnership with RadiciGroup, an emblem of worldwide excellence in the Province of Bergamo, whose success – and this I'd like to stress – is based on strong shared values, above all. The RadiciGroup name will thus appear on the jerseys of all competitions that our first team plays in. And this will be the greatest source of pride for Atalanta."