RadiciGroup at "Fuori di Design"
Carpet made with RadiciGroup yarns installed in "care-LESS" exhibit.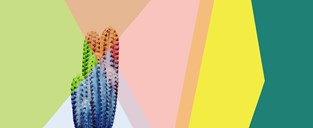 During Milano Design Week, RadiciGroup will be a key player at "Fuori di Design", an exhibit promoted by Materioteca®, open to visitors from 9 to 14 April in a charming setting at Via Tortona 26. 
Now in its eighth edition, this year's event features the five colors of "care-Less", a social trend identified by Clariant ColorWorks. In addition to the Swiss group – the creator of the guide ColorForward® 2020 – and the Treviso-based Brado – a supplier of solutions in the field of seating design –, RadiciGroup is participating in the event with its solution dyed polyamide yarns used to produce the installed carpet in five shades, developed together with Clariant ColorWorks®.
Materioteca® serves as a mediating structure between the world of creative design and materials technology. Through the years it has become a network and laboratory of ideas, where new collaborations, proposals and initiatives are born. For the last eight years, it has organized Fuori di Design, a collective exhibition of objects ranging from art to design, jewelry and furnishings, to promote and valorize the culture of design.
To learn more:
https://clariant.com/en/Corporate/Events/2019/4/ColorWorks