RadiciGroup, a European leader in technical textiles
At Techtextil 2019, focus on products for high performance applications. New bicomponent production line extends the horizon of spundbond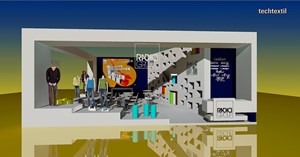 RadiciGroup's entire Synthetic Fibres & Nonwovens Business Area is at Techtextil 2019, the leading trade fair for technical textiles and nonwovens in Europe, taking place in Frankfurt an Main, Germany, from 14 to 17 May.
On display in the RadiciGroup exhibition area (Hall 4.2–Stand C68) are the latest developments of the Group's business area, from nylon and polyester yarns to new nonwovens manufactured using bicomponent technology.  
"Our stand is showcasing our whole product portfolio," said Marco De Silvestri, marketing director of RadiciGroup Comfort Fibres, a business area that is part of the larger Synthetic Fibres & Nonwovens Business Area. "We are presenting our entire range of products, from more conventional (polyamides, polyesters, etc.) to specialty products, such as those obtained from materials of biological origin (Biofeel and CornLeaf), enriched with additives or produced with bico-technology. The focus is naturally going to be on technical applications, which have always been the centre of attention at RadiciGroup: outdoor, workwear, automotive and sport, to mention just a few of the target sectors for RadiciGroup high performance products."
RadiciGroup Comfort Fibres aims for product sustainability: under the brand name Biofeel®, the Group sells bio-based yarn made with polymers obtained mostly from renewable source materials instead of petrochemical products. Furthermore, RadiciGroup offers solution-dyed yarn, which allows for considerable water savings, since the dyeing process occurs in the extrusion phase.