Radici Yarn certified to ISO 50001 Energy Management Systems
Continuous improvement in environmental performance and reduction in energy consumption through teamwork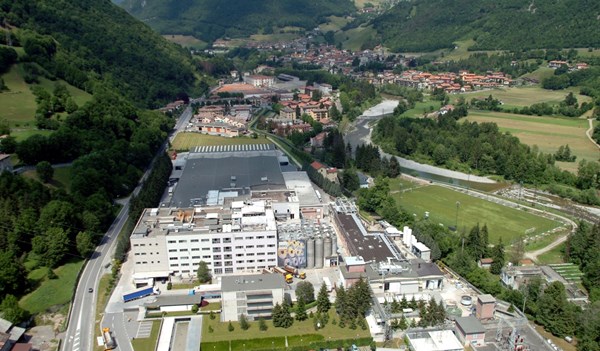 Over 400 employees work hard every day to improve the environmental performance of Radici Yarn's site. Through teamwork and continuous improvement in energy efficiency, Radici Yarn has obtained ISO 50001 Energy Management Systems certification, which attests to the organization's commitment to contain and progressively reduce energy consumption.

Radici Yarn, one of the companies in the RadiciGroup Advanced Textile Solutions Business Area, is engaged in the production and sale of polyamide 6 polymer, PA6 and PA66 continuous filament and staple yarn, and other synthetic fibres, including products made of recycled or bio-based materials.
All the processes - polymerization and spinning (Villa d'Ogna plant), as well as warping and draw-warping (Ardesio plant) - are run under constant monitoring with the goal of achieving maximum energy efficiency and lower consumption. Both sites are powered by two hydroelectric power plants owned by Geogreen, a RadiciGroup partner and energy supplier. The share of energy consumption from renewable sources and reduced environmental impact (natural gas) sources is constantly increasing.

The energy issue has always been a priority for Radici Yarn, whose products serve numerous sectors, including automotive, clothing and furnishings.

Already at the beginning of the 1990s, Radici Yarn started investing in cogeneration, the simultaneous production of electricity and steam," pointed out Laura Ravasio, energy manager of Radici Yarn SpA. "We have recently started up an advanced trigeneration plant – a highly efficient system that produces not only electricity and steam, but also chilled water for our production processes. One of the first results recorded in 2021 was a 30% reduction in water consumption. Thus, ISO 50001 certification seemed like the next logical step to take in formalizing a long-term approach to energy."

The ISO 50001 certification, which is voluntary and valid for a period of three years, was added to the ISO 14001 Environmental and ISO 9001 Quality Management system certifications previously achieved by Radici Yarn.

"I think that these achievements, just like the other increasingly ambitious goals that we keep setting for ourselves and are committed to pursue, have been made possible by the teamwork of all our staff," Nicola Agnoli, BA manager of Advanced Textile Solutions, said. "The Group keeps investing in creating and strengthening a culture of quality, environment, energy, health and safety management, and everyone at RadiciGroup goes all out every day to make the company a reliable and innovative partner that safeguards resources and assets to ensure they will be available for future generations to enjoy."