Polyamide: RadiciGroup offers the most complete portfolio
At Domotex 2018, the RadiciGroup Synthetic Fibres Business Area is showcasing its latest textile flooring solutions for contract and residential applications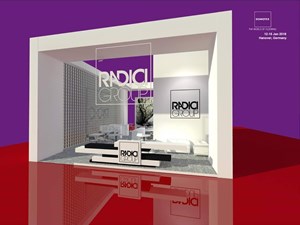 RadiciGroup is exhibiting at Domotex 2018 (Hall 11 Stand D14) with one of the world's widest ranges of floor covering products: from polyamide 6 and bio polyamide 6.6 carpet yarn to polyethylene and polypropylene artificial grass yarn, ideal for synthetic turf used to enhance both public and private spaces.
Thus, a complete offering of materials – all manufactured in Europe – from RadiciGroup, an industrial multinational engaged in numerous sectors, but with a special focus on and years of experience in flooring for homes, offices, hotels, ships and many other applications.
The Radifloor® BCF yarn line – manufactured and processed at the RadiciGroup plants in Casnigo, Italy, and Podborany, Czech Republic – boasts an ever increasing variety of new products. The RadiciGroup Synthetic Fibres Business Area is presenting new PA 6.6 yarn made of polymers with different dye affinities (deep and basic), making it possible to manufacture supersoft carpet with chromatic effects (not just a single colour, as has been the case up to now). Furthermore, two new kinds of yarn have been added to the range: superbright PA 6.6 1350 F 68 BRIGHT yarn,  sporting high performance characteristics and targeted at the printed entrance mat segment, and PA 6.6 Dtex 1100F256 Bright Heat Set SUPERBA yarn, featuring a soft hand and a unique design with iridescent effects.
Upstream vertical integration allows RadiciGroup to deliver yarns that can make the dying process easier for customers, meet the varied requirements set by designers and ensure more resistant and longer-lasting flooring. Thanks to the improvements made to Power Heat Set technology, RadiciGroup's portfolio for the residential segment comprises a large selection of PA 6 frisé yarns with various deep and cationic dye affinity combinations, for a luxurious effect that is a good value.
Enjoy a virtual experience!
At the RadiciGroup Stand – Hall 11 D14 – visitors are given the opportunity to take a virtual reality tour with 360° animation, during which they are immersed "inside" a carpet, surrounded by fibres. See you there!