Colors and sustainability in contract and automotive carpeting
RadiciGroup and Avient team up to create carpet samples based on the new ColorForward 2022 Palette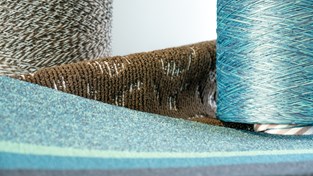 Despite added challenges imposed by the Covid-19 pandemic, Avient ColorWorks™ and RadiciGroup once again worked together to create carpet samples that are part of Avient's ColorForward 2022 trend-analysis and color-forecasting guide for the polymer industry. The 16th edition of the annual kit, announced in December, includes four societal trends and twenty related colors that can be expected to resonate with consumers consciously or unconsciously in the next few years.
The colors are rendered in several different forms, including traditional color chips, sample cards, various molded forms and fiber pom poms. RadiciGroup produced carpet samples aimed at contract and automotive applications. For the first time, RadiciGroup used its proprietary Renycle® BCF yarn for the creation of the samples. Made from recycled nylon 6, Renycle® is a highly valued material because of its excellent resistance and versatility.
"This is the 5th year of collaboration between our companies," says Heike Schmidt, Marketing & Carpet Application Manager at RadiciGroup Advanced Textile Solutions. "Avient ColorWorks is synonymous with reliability and innovation in the color sector. By working with them on the creation of the Renycle® carpets included in ColorForward 2022, RadiciGroup can create and propose new, inspirational and sustainable samples and yarns to its customers."
Alessandro Pozzati, Industrial Designer, Avient ColorWorks™ EMEA, notes that in-person collaboration, which has been the standard approach in previous years, was impossible this year due to Covid-19 restrictions. "Not only did the global ColorForward team have to meet virtually, but RadiciGroup was forced to work independently in the creation of the carpet samples. However, the result is outstanding and we really like their interpretation of the trends and the colors."
RadiciGroup's Heike Schmidt underlines that "We will also use ColorForward 2022 to further promote and extend the number of colors in our new PA6 Renycle® range. In our opinion working across different market segments with companies like Avient always develops better solutions as we share ideas and learn from each other. We make all our expertise in yarn and carpet available to create design solutions which combine beauty and sustainability".
Click here to learn more about ColorForward 2022