CarE-Service: the car of the future is circular
RadiciGroup participates in a dedicated webinar on the EU project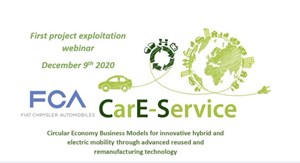 Partners of the "CarE-Service" EU project, through a dedicated webinar, wish to meet companies, universities, research, technology centers and other economic operators interested in project results for future implications, potential partnerships, or inspiration for their businesses and activities.

The virtual meeting is scheduled on December 9th, 2020 and it will be the occasion to present the results and outcomes of the project investigation. Moreover there will be an opportunity to meet virtually project partners to provide feedback and suggestions for further development, express interest to be involved as "tester" or "the first replicator", as well as to start establishing relationships for future eventual partnerships.

In recent years, the automotive industry has been undergoing a fundamental transformation with the transition from traditional cars to electric and hybrid vehicles. The European project CarE-Service intends to take up this challenge by developing business models, mobility services and technologies based on the circular economy.

RadiciGroup High Performance Polymers conducted feasibility studies for the CarE-Service project on the recompounding and reuse of materials coming from end-of-life automotive components, to obtain secondary raw materials featuring performance characteristics comparable to the post-industrial reference materials. The preliminary results obtained so far are encouraging and give hope that the tested materials can be used in high value-added engineering applications destined, in turn, to become actors in a new recycling process at the end of their life.

Want to learn more? Register to the webinar ...click here!