Biofeel® eleven parades at the Imperial Forum Museum during the Phygital Sustainability Expo
RadiciGroup's sustainable fashion offering: a 100% biosourced dress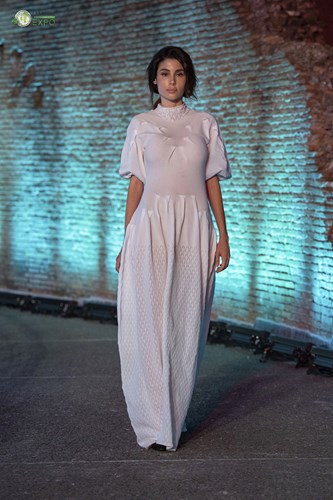 Once again, RadiciGroup took part in the Phygital Sustainability Expo, this year in its fourth edition, which was held in Rome on 5 and 6 July. This leading event in the fashion industry is entirely dedicated to the ecological transition of fashion and design brands through technological innovation.
The show is always an important platform for discussion on sustainable transition issues, involving Italian and international brands, fashion tech start-ups, representatives from the institutional, business and educational fields, and consumers.

RadiciGroup's participation in the event was further evidence of the Group's commitment to making a contribution to sustainability and circularity in the fashion and textile industry, in collaboration with all the other players in the supply chain.

During the narrated fashion show, held on the evening of Wednesday, 5 July, in the evocative archaeological complex of the Imperial Forum Museum, RadiciGroup presented a maxi dress made of Biofeel® eleven, a yarn of completely natural origin featuring high technical, aesthetic and environmental performance.

This yarn is produced starting from a small bean cultivated in India on semi-arid land and thus does not compete with human food production. These beans yield a special oil ideal for obtaining biopolymers, such as the one produced by Arkema and spun into yarn at RadiciGroup in Italy.
The dress is not only made from a low environmental impact raw material, but is also an example of ecodesign: indeed, the garment was realized on a Shima Seiki WholeGarment knitting machine, where the entire item was knit directly from spools of Biofeel® eleven yarn, bypassing the traditional stages of weaving and tailoring. It is a zero-waste process, as only the quantity of yarn strictly needed for the garment is used.

Biofeel® eleven yarn endows the dress with special and unique characteristics, including low moisture absorption, greater lightness and high resistance and durability.

Besides being 100% biobased, the yarn is also 100% recyclable because it is made of a mono-material polymer, which facilitates its end-of-life recycling and processing into new materials suitable for any application requiring high performance. To sum up, Biofeel® eleven yarn is a practical contribution to an increasingly sustainable textile industry based on the principles of the circular economy.