2017 results: Sales EUR 1,147 million, EBITDA EUR 160 million. A year of strong growth for RadiciGroup.
A solid Group operating with respect for people and the environment. Higher global net value added for stakeholders.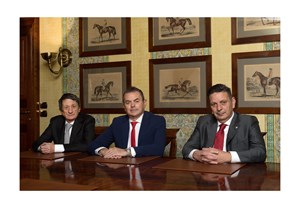 RadiciGroup 2017 sales significantly exceeded one billion euros: the Group – with over 3,000 employees, companies in 16 countries and 33 sales and production units engaged in chemicals, plastics and synthetic fibres – recorded consolidated sales revenue of EUR 1,147 million, a 20% increase over the prior financial year.
Group net income rose by over 60% compared to 2016, driven by an increase in sales volume, while Group EBITDA was EUR 160 million (+ 45%).
"Our competitive system operates with respect for people and the environment," said Angelo Radici, president of RadiciGroup. "The financial statement figures show that our Group is sound and in excellent financial condition, in spite of the high levels of uncertainty that characterize some of the widely diverse scenarios in which the Group operates."
RadiciGroup's strategy continues to focus on its strategic core business activities – nylon chemicals, engineering plastics and synthetic fibres – with the goal of improving its competitive position in the market and achieving an overall balance among the geographical areas where the Group operates in order to reduce dependency on single markets and boost cash flow to reduce debt and finance new initiatives in crucial markets.
"Our 2017 results are very positive and show higher Group growth compared to 2016, which has strengthened our balance sheet," stressed Alessandro Manzoni, CFO of the Group. "We are also very pleased with the results of the first half of 2018, which rose compared to the same period of 2017. However, in the second half of the year, we are in a more cautious position due to the new climate of political uncertainty, which, naturally, has an impact on markets, as well. The Group's financial position is extremely solid."             
Moreover, in 2017 global net value added – i.e., the wealth created by a company to be distributed among stakeholders – recorded a further increase up to over EUR 258 million (EUR 206 million in 2016).
"Our Group is capable of creating wealth for all its stakeholders," Angelo Radici continued, "but, at the same time, is also engaged in cutting back on the resources used to create such wealth. I believe this virtuous interplay has allowed our enterprise to grow in a truly sustainable way. "Additionally," Mr. Radici concluded, "we continue investing to support the competitiveness of Group companies: towards this goal, during the last 5 years alone (2014-2018), we have invested EUR 210 million, of which EUR 50 million during the current year."