RadiciGroup announces the launch of the Chinese version of its website.
The Chinese version of the RadiciGroup corporate website is now online at www.radicigroup.com/cn.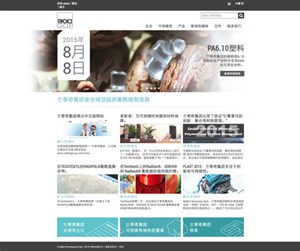 For over ten years, RadiciGroup – a leading industrial multinational specializing in polyamide chemicals – has been operating in China through its sales unit, Radici Chem (Shanghai) Co., and its production site, Radici Plastics (Suzhou) Co., Ltd. The Group's Chinese site has been developed with the objective of providing its Chinese stakeholders – first and foremost its customers – with detailed information on the RadiciGroup industrial organization and its expansive portfolio of products. Particularly relevant to the Chinese market are the brand pages: spanning from the brands of the Chemicals Business Area (
PA polymers and chemical intermediates
) to those of the Plastics Area (
PA, PBT, TPE and POM engineering plastics
) and the Synthetic Fibres and Nonwovens Area (
PA yarn and staple, polyester yarns, artificial grass yarn and nonwovens
).
The Chinese version of the RadiciGroup website is tailored to its Chinese target audience and is intended to become the Group's communication portal for the Chinese market.
Visit
radicigroup.com/cn